Follow Friday Question of the Week:
Go count the number of unread books sitting on your shelf. How many?
Ummm...I'm not at home to look at my bookshelf but I have 156 books on my iPad (still geeking because I have an iPad!). On top of that I have 56 Accepted Review Requests!! The last time we had to count a couple of months ago, I had 46 books on my TBR list. Hmmm...blogging...has made my addiction to books so much worse.
Hi!! Welcome everyone who stops by. If you have a chance take a look around :) I'm really looking forward to hopping. Figured had to get have some fun before starting school next week.
A couple of things:
If you have problems commenting, click on the title and it works. I'm working on it, I promise.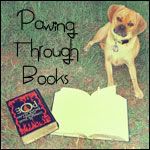 Thank you for the Topics for Why I Love Wednesdays!! I really appreciated the help. We were able to generate 53 topic ideas. How awesome is that?!
Oh and be sure to visit this week's features, the lovely Book Den and Pawing through Books.
TGIF at GReads Question of the Week:
What are some of your reading goals for the new year?
Well I set a goal to read 75 books on the GoodReads challenge which is more than the 60 book goal I set last year but still fewer than 84 books I read last year.
I really want to get more reading time in. I spend too much time blogging and not enough time reading and I don't really like that.
I want to venture out of my comfort zone and try other genres like steampunk, zombie books, and I'm still looking for that perfect ghost book.
I want to read some of the books on my bookshelf. Many of them are books I bought because of recommendations of other bloggers. Others are some that I saw in a book store and had to have. I want to read them. I really do.